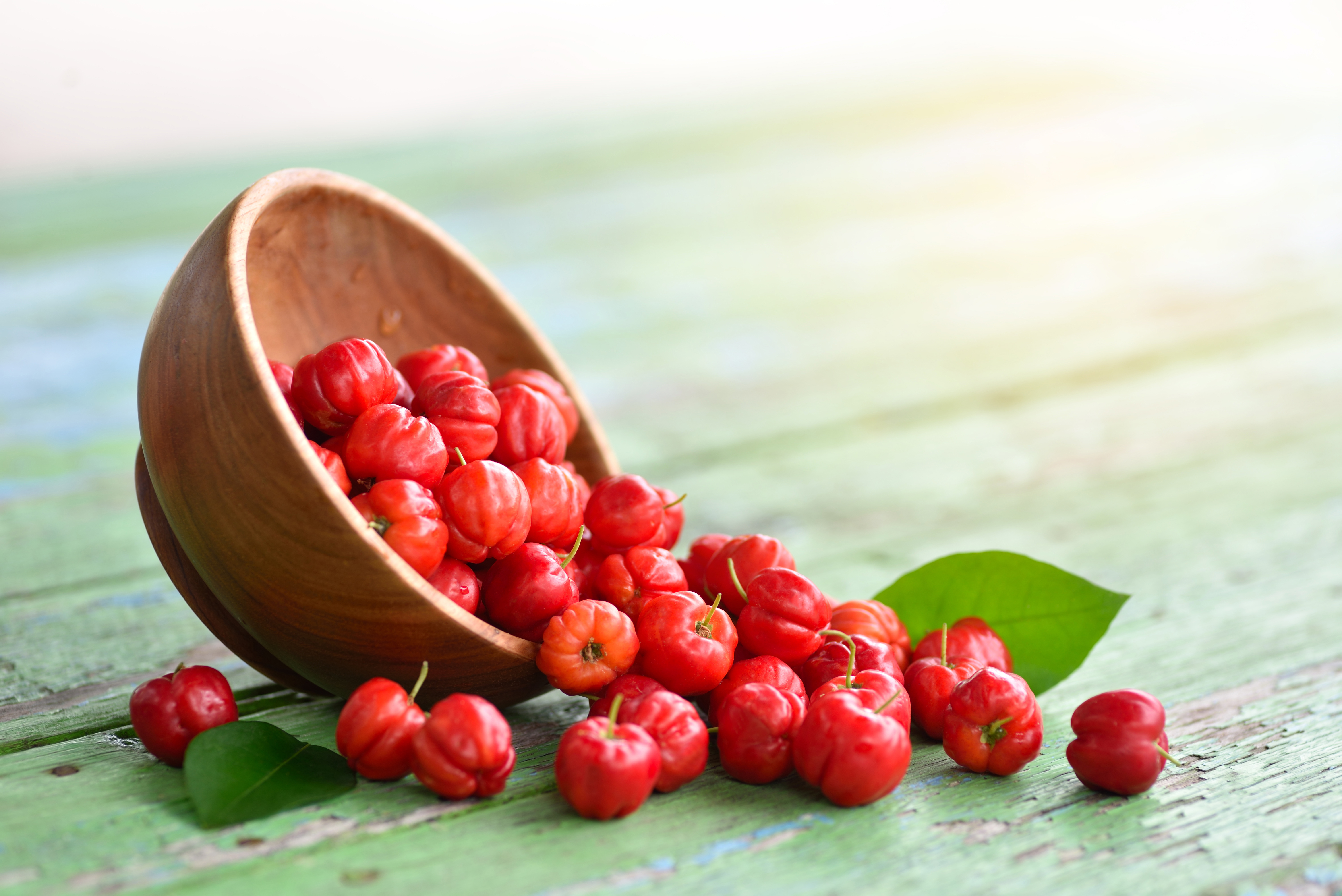 This 10 kg bag of organic freeze dried acerola juice powder has 38-42% Vitamin C from Acerola Cherry. Acerola Cherry, also known as the Barbados cherry, is a source of several vitamins and nutrients. It has a vivid orange color that visually suggests its tropical origins. The freeze drying process helps this powder retain the nutrients found in fresh juice, creating a shelf-stable product without sacrificing its many nutritional advantages. The powder is additive-free, to better provide a concentrated flavor.
Uses for Acerola
The acerola powder has a variety of potential uses as a source of nutrients and sweet, tart and fruity flavor. The freeze dried powdered form allows more flexibility for this ingredient and makes it easy to use. Combine it with other foods, put it in sachets, combine with other powders into a blended product or use it to provide an exotic fruity flavor to instant drink formulas. The vitamins make it a useful component in health foods, in particular.
The low pH and brilliant colors are perfect for formulating beverages and excellent for brewing applications.
Nutritional Benefits
The acerola powder provides an excellent source of vitamin C, which helps with collagen production. It is also rich in vitamin A, which benefits skin, eyes and other parts of the body due to its fat solubility. The vitamin B contents boost energy and help the metabolism. Carotenoids benefit vision and bioflavonoids enhance the effects of vitamin C.
Certifications
This powder has certifications from trustworthy sources. It is Star K Kosher certified and USDA Organic. It is also Ecocert certified, which indicates that the powder is sustainably sourced and grown with environmentally friendly methods.
Specifications
Has a shelf life of 24 months
Package size of 10 kg
Orange in color
Low Heavy metals
Scientific name Malpighia Glabra
Originated in Brazil
Additional Organic Acerola Offerings: 
Acerola Juice Powder
Acerola Powder 17-20% Vitamin C
Acerola Organic Powder 30-34% Vitamin C
For more healthy, whole food ingredients, visit our market page. We have a variety of organic, environmentally friendly products available in bulk for manufacturers, ingredients providers and other commercial parties.