Globally Local Inventory
Over 10,000 raw materials and finished goods.
Enter the market to view listings.
inField Market
Welcome to the newest B2B Marketplace constructed for entities in the Animal Nutrition, Food & Beverage, Nutraceutical and Cosmetic space.  Our free to use platform allows companies to buy and sell excess raw materials at competitive prices.
Real inventory in real-time in a real warehouse. No games.
Explore a virtual market with real-time inventory
Mobile friendly layout – accessible 24/7 from any device
Buy and sell bulk inventory from the same system

Premium Inventory
Every product on inField Market is of the highest quality and sold from reputable vendors, who are vetted by our internal quality control team.  Our transparent service allows you to view Factory COA's, Third Party / In-House Testing and dozens of other important product documents.
Quick Search & Filtering
Filter, sort, search and find exactly what you're looking for in seconds.  With our real-time filtering and search database you'll be able to quickly find and purchase the product you need.  You can even use our unique map feature to find products that are locally available!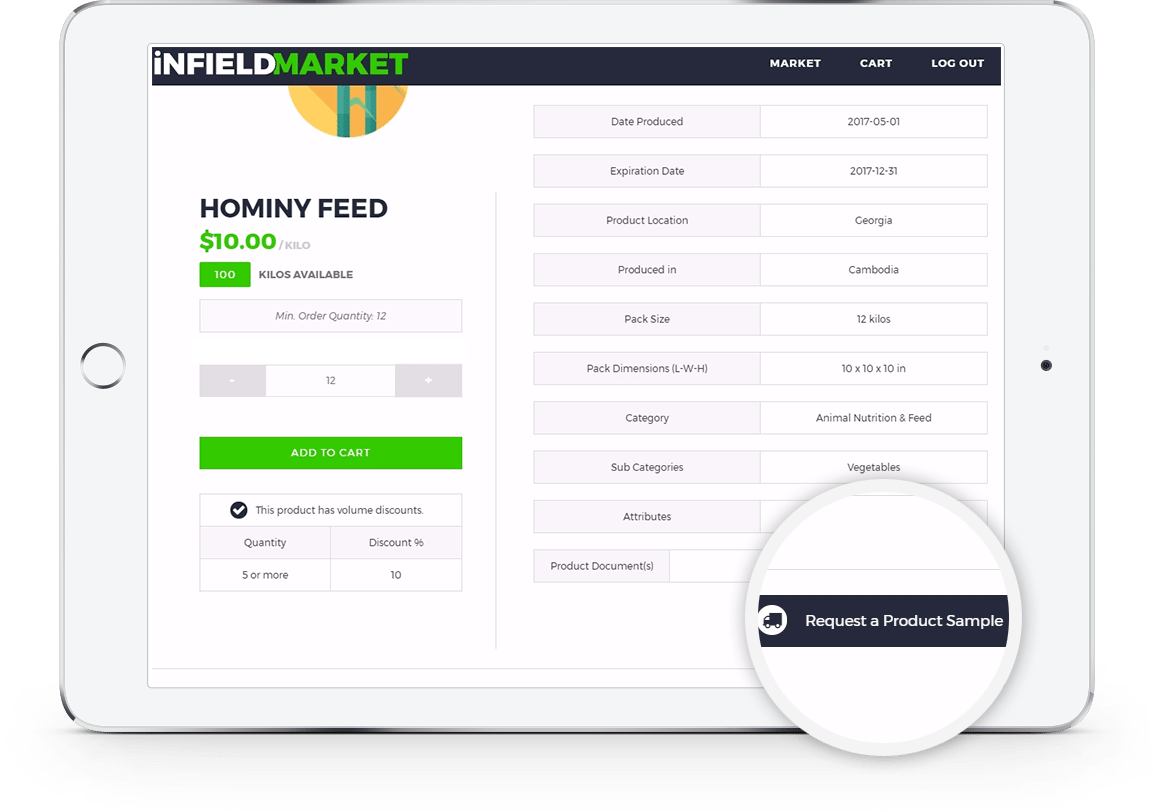 Product Samples
Request a sample for any product to ensure quality and expectations are met before purchasing.  Fill out the quick form on the product detail page to have a sample sent to you.
Buyer Protection
We offer buyer protection through our guarantees, terms & conditions and white glove service throughout the buying process.  Rest easy knowing that every transaction on our site is carefully reviewed and monitored, following a thorough processing, shipping and confirmation workflow.

Already registered & logged in?
Ready to get started?
Register or login using the link to the right.  All users start with a "buyer" account and can apply to become an official "vendor" in your account page.  Please note that all vendors are thoroughly vetted and will be required to provide detailed documentation beyond the simple application in your account page.